A basic requirement: We assume that you have a computer with soundcard and the internet connection.
You need three things to record your voice and publish it in the internet:
I) Audio recording equipments
II) Audio editing software
III) An internet site for publishing your audio recordings
I) What equipments you need for recording your voice
Note! Many phones record high quality audio. It is entirely possible to start recording a podcast using only your phone. But better sound quality is achieved by using digital storage devices specifically designed for recording. The following hardware configuration aims at an affordable, but at the same time high-quality alternative in terms of price quality.
1) Zoom H2n Portable WAV/MP3 Recorder
All these features in one package:
– High quality inbuild microphone (actually two stereo mics, XY and MS)
– High quality recording device for studio and field work
– Serves as an USB mic and audio interface (direct recording to your computer)
– You can record an external mic/device to an independent stereo track via external mic/line input.
– Surround recording capability
2) Zoom APH-2n Accessory pack for Zoom H2N Digital recorder
– Wired remote control
– Extension cable for remote control
– Windscreen (Pop filter, you will need this)
– USB AC Power Supply (feeds with standard USB 5V 1000mA so you might be able to run Zoom H2n also with a standard USB power bank)
– USB cable
– Adjustable tripod stand
– Padded Case
– Mic clip adapter (very handy for keeping the device in your hand when interviewing or connecting it on any mic stand)
From where to get:
(Note: All the Prices may vary according to exchange rates)
Thomann:
Zoom H2n APH-2n Bundle ( Zoom H2n + Zoom APH-2n)
https://www.thomann.de/gb/zoom_h2n_aph2n_bundle.htm
About €178 / £156.31
Amazon:
1) Zoom H2n Handy Recorder
https://www.amazon.com/Zoom-H2N-H2n-Handy-Recorder/dp/B005CQ2ZY6 About $159.99
2) Zoom APH-2n Accessory pack
Zoom APH2n Accessory Pack for H2n Portable Recorder
About $39.99
Total price in Amazon: About $199.98
3) Headphones
Headphones are crucial for monitoring your recordings.
If you do not own good headphones already, these are recommendable:
Koss Porta Pro On Ear Headphones
Available almost everywhere in the markets and internet stores. Inexpensive quality headphones, good bass frequencies, clear sound (15 – 25 000 Hz). Lightweight and the length of the cable is just right for the field work. These don't stress your ears.
For example in Amazon:
https://www.amazon.com/Koss-Porta-Pro-Headphones-Silver/dp/B00001P4ZH
About $39.99

So this is what you need at least for recording your voice.
Costs by now in all (average sum) $239.97
Without headphones $199.98
*) Please see the optional equipments in the end of this article.
---
II) What software do you need for editing your audio recordings

You only need one software
Audacity
A free audio editing software for Windows, Mac and Linux.
https://www.audacityteam.org/download/
---
III) What do you need for publishing your audio recordings in the internet
To publish podcasts on the Internet, you need a podcast host. It is an internet service to which you upload your audio files and from which everyone can listen to your podcast. There are several podcast hosting services available on the internet. Here are two popular services:
Anchor.fm offers a podcast hosting service for free. It is very popular. Definitely worth a look.
Soundcloud is another popular hosting service. Soundcloud's Basic account offers you 3 hours upload time for free. You can buy more upload time. The upload time means the length and duration of the audio programs. A bit strangely Soundcloud charges for the length of the audio programs, the other hosts do charge for the size of the audio files. What this means is that the programs in Soundcloud can be high quality sound files because the size of the audio files do not matter. In other hosts you have to reduce the quality of your sound files to avoid overrunning the file size limits.
---
If you want add some longer texts and photos relating your audio files, it's wise to get a real www-site for your stuff. In wordpress.com you make an internet site of your own for free and add there text and photos and link to your site your audio files with Soundcloud audio player for example. It's easy, no coding skills are needed.
---
The optional equipments for audio recording work
Microphone stand

K&M 210/30 BK with a boom arm is a good choice
https://www.thomann.de/gb/km_210_30.htm
About €32 / £28.10
You really can't get along without this in your studio.
You can find every kind of stands in any music store. Remember the boom arm. We trust in K&M stands.
Be sure to attach a microphone holder to the same order:
the t.bone Microphone Holder M
About €2,99
Thomann:
https://www.thomann.de/gb/the_tbone_mikrohalterung.htm


This fits really nice to the Mic clip adapter of the Zoom APH-2n Accessory pack for Zoom H2n:

Another option for the microphone holder:
Microphone Shock Mount
for Zoom H2n:
the t.bone SSM 6
https://www.thomann.de/gb/the_tbone_ssm6.htm
About €7.70 / £6.76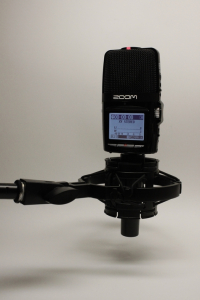 This Shock Mount has a 5/8" thread so depending on your mic stand thread you might need a 3/8" to 5/8" adapter.
https://www.thomann.de/gb/km_217_reduziergewinde.htm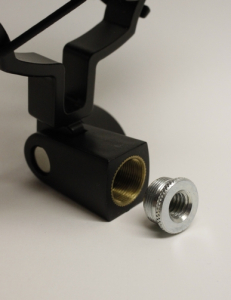 Music Stand
If you want to do voice overs and read texts by standing (like they always do with film post production voice overs).
For example this:
K&M 100/5 Stand Nickel Coloured
https://www.thomann.de/gb/km_100-50_notenstaender.htm
About €27 / £23.71
Popkiller
K&M 23956 Popkiller
With this you can prevent annoying pops when speaking near the mic.
https://www.thomann.de/gb/km_23956_plopkiller.htm
About €20.30 / £17.83
Windshield
Zoom WSU-1
Reduces wind noise when recording oudoors, very useful.
https://www.thomann.de/gb/zoom_wsu_1.htm
About €26 / £22.83
---
---